Industrial ecologists: Make research results available!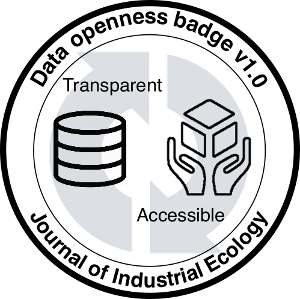 Researchers and stakeholders in industrial ecology often find it difficult to access and re-use the results of quantitative analyses described in the literature. The lack of access to data is part of a wider reproducibility problem in contemporary science [link to https://www.nature.com/news/empty-rhetoric-over-data-sharing-slows-science-1.22133], and several initiatives were started to alleviate the problem, reaching from minimum data supply requirements for journal publications, reward systems for particularly open research articles, and free and open data repositories [http://www.sciencemag.org/cgi/doi/10.1126/science.aab2374].
The International Society for Industrial Ecology wants to contribute to the solution of the problem, and has convened a task force for data transparency(*) to develop and propose concrete initiatives for open data to the community. Over the last six months, the members of the task force have assessed the benefits and risks of making data easier available and developed a data openness proposal.
The ISIE task force for data transparency proposes to the community two preliminary actions to advance these goals: (1) a minimum publication requirement for IE research to be adopted by the Journal of Industrial Ecology; and (2) a system of optional badges that recognize increasing levels of transparency and accessibility of data accompanying journal articles. The intention is that these actions start an inclusive discussion for all within the IE community to engage with and respond to these key concerns of data transparency and accessibility; therefore, they should be treated as being under an active community-led development program.
This proposal will be presented at the ISIE-ISSST 2017 on Wednesday, June, 28 10:45 AM in room G.
You can access the full proposal on data openness in industrial ecology here:
Please share your opinion about the proposal and other ideas on how to promote data openness by filling out the following survey by July 31st, 2017:
(*) Members of the task force include (as of 06/25/2017)
Edgar Hertwich 1, Niko Heeren 2, Brandon Kuczenski 3, Guillaume Majeau-Bettez 4,5, Rupert J. Myers 1, Stefan Pauliuk 6, Konstantin Stadler 4, and Reid Lifset 1
1) School of Forestry & Environmental Studies, Yale University, New Haven, Connecticut, USA
2) Institute of Environmental Engineering, ETH Zurich, Switzerland
3)Bren School of Environmental Science and Management, University of California, Santa Barbara, USA
4) Industrial Ecology Programme, Norwegian University of Science and Technology (NTNU), Trondheim, Norway
5) CIRAIG, Polytechnique Montreal, Montreal, Canada
6) Faculty of Environment and Natural Resources, University of Freiburg, Germany
The ISIE data transparency task force can be reached under the following email address: data@is4ie.org