At the ISIE/ISSST 2017 Joint Conference in Chicago the new ISIE website was unveiled. Various new features were described in a previous announcement. However, we have continued to improve and expand the website and in this post we would like to provide more insights into our new Newsletter format.
Previously, the ISIE newsletter was manually curated and sent out to the ISIE members two to four times a year. However, the new website has provided the Society's sections with a new, centralized platform to post and share news and events, and as a result we have a constant stream of relevant and interesting industrial ecology announcements and other messages. In order to keep our members updated, we have developed a new newsletter format, that will be sent out to all our members on a monthly basis.
This new format is a personalized digest sent to each individual member based on her or his preferences and settings. By default, the system will send the headlines of all new posts on the website to each member. However, only general ISIE messages will be included, as well as messages that are posted by the sections that the member is subscribed to. This means that you should make sure to subscribe to those sections that are of your interest! Subscribing only takes a few clicks, and can be done by editing your profile.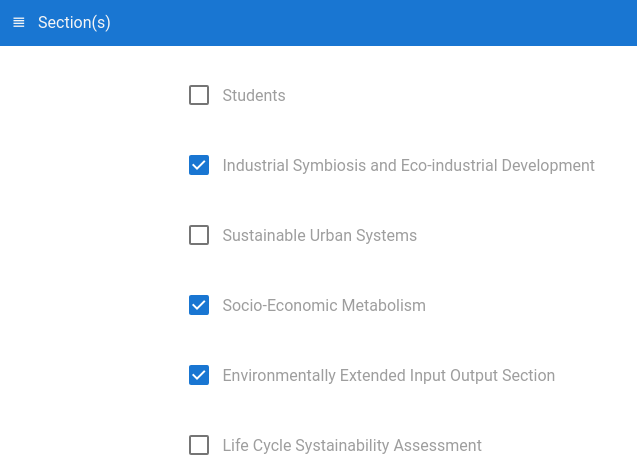 To subscribe to ISIE sections, simply tick the boxes next to the section names in your profile
Special newsletter settings
Not only will the newsletter be customized to your Section affiliation, but you can also select what kind of news you would like to receive. There are five types of news messages:
By default you will receive all these messages. However, with the click of a button you can customize your newsletter and remove those that are not of your interest. Finally, it is also possible to stop receiving the newsletter altogether, by deactivating it on your profile.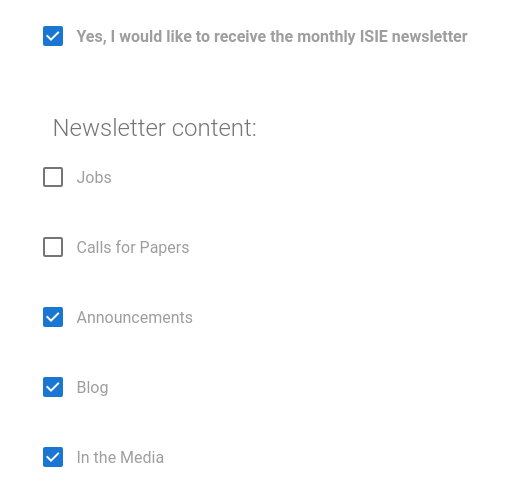 We hope the ISIE members enjoy these new features, and as usual we are keen for you to let us know what you think.