ISIE Webinar on Feb 22nd - Dr. Tommy Wiedmann
We are pleased to announce our next ISIE webinar will be on Thursday, February 22nd from 4:30-5:30 pm EST
Carbon footprint accounts are becoming increasingly important for cities that aim to take a lead in tacking climate change. Dr. Tommy Wiedmann will discuss how to assess urban development from a carbon footprint perspective and provides new insights for dealing with the extended responsibility for global resource use of cities.
CONSUMPTION-BASED CARBON FOOTPRINTS OF GLOBAL CITIES
February 22, 2018, 4:30 - 5:30 PM Eastern Time (US and Canada)
Registration required
The webinar will address the challenges of reliably quantifying city carbon footprints based on global multi-region input-output analysis, present results for selected cities and discuss the usefulness of consumption-based carbon footprint accounting for decision-making around urban sustainability.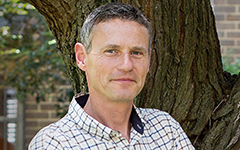 Dr. Thomas (Tommy) Wiedmann is an Associate Professor and Program Leader of the Sustainability Assessment Program at UNSW Sydney, Australia (The University of New South Wales). His long-standing expertise is in integrated, quantitative sustainability assessment, industrial ecology and environmental footprint analysis. He is leading the development and application of the Industrial Ecology Virtual Laboratory (IELab), a collaborative research platform for environmentally extended multi-region input-output analysis. Tommy has coordinated a number of sustainability-related research projects funded by European and Australian Governments worth about $6m in total. In 2012 he received the Thomson Reuters Citation Award in Australia and has been listed as Highly Cited Researcher and World's Most Influential Scientific Minds annually since 2015.
Don't forget to register: https://yale.zoom.us/webinar/register/WN_sT8YSzFITl2XL7dRGaXkjw
*March 2018 Update*
Please also join us for our March 9th ISIE webinar, featuring Dr. Stephanie Pincetl, Professor at the UCLA Institute of the Environment and Sustainability and Director of the California Center for Sustainable Communities.