The second edition of the 'Size of the Society' workshop is almost here! If you're interested in learning more about just sustainability transition, this is the perfect opportunity to do so. Don't miss out on this exciting opportunity to learn from experts in the field and contribute to the conversation about just sustainability transition. Register for the workshop: https://konferencia.unideb.hu/en/node/1078
In addition to the workshop, we're excited to announce a new article by one of our members about the promises of infrastructure-centered sustainability policy. In this article, Mihály and his co-authors discuss the importance of placing infrastructure at the center of sustainability policy.
For more information, read the full article: https://journals.plos.org/sustainabilitytransformation/article?id=10.1371/journal.pstr.0000053
Why and how should we place the infrastructure into the center of the sustainability policy?
By Mihály Dombi and co-authors
Over the last decade, economic inequality has been increasingly emphasized in the sustainability discourse. Inequality in wealth and earnings evokes social tensions and keeps holding back efforts toward a just and sustainable society. However, recent studies show that we cannot reach an aim of a more equal society and decreased pollution and natural resource use at the same time. We discovered that the capital market is vital with regard to the connections between society and its effect on Nature, as investments appropriate the vast majority of natural resources and drive enormous emissions. The same investments, on the other hand, constitute emerging revenue sources for concentrated, monopolist capital income. However, a disruption in the capital market would cause substantial social damage, such as a shortage in the housing market or the discontinuation of innovations. The aim, then, is to identify selective yet market-oriented regulatory instruments. Our findings propose a four-step policy framework that provides a theoretical basis for selecting these instruments:
introduce taxes on capital income;
adopt more rigorous spatial planning measures;
implement a government-led affordable housing program;
apply lower write-off rates to long-lasting capital assets.
We have also assessed the potential social effects of the suggested policy settings. Initial results imply a remarkable drop in natural resource use can be achieved without halting social progress in developing or developed countries.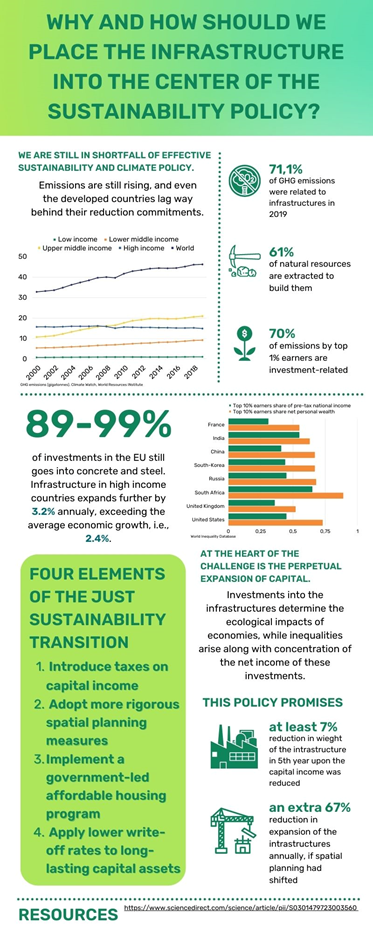 Resources:
Dombi M, Fahid AFM, Harazin P, Karcagi-Kováts A, Cao Z (2023) Four economic principles of just sustainability transition. PLOS Sustain Transform 2(3): e0000053. https://doi.org/10.1371/journal.pstr.0000053
Mihály Dombi, Piroska Harazin, Andrea Karcagi-Kováts, Faisal Aldebei, Zhi Cao. Perspectives on the material dynamic efficiency transition in decelerating the material stock accumulation. Journal of Environmental Management, Volume 335, 2023, 117568, ISSN 0301-4797. https://doi.org/10.1016/j.jenvman.2023.117568.