Industrial ecologists: Make research results available!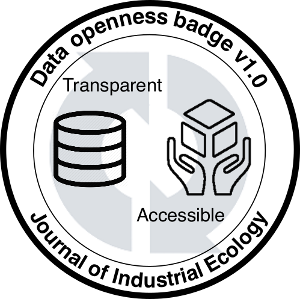 Researchers and stakeholders in industrial ecology often find it difficult to access and re-use the results of quantitative analyses described in the literature. The International Society for Industrial Ecology has convened a task force for data transparency to develop and propose concrete initiatives for open data to the community. Over the last six months, the members of the task force have assessed the benefits and risks of making data easier available and developed a data openness proposal, which includes (1) a minimum publication requirement for IE research to be adopted by the Journal of Industrial Ecology; and (2) a system of optional badges that recognize increasing levels of transparency and accessibility of data accompanying journal articles. The intention is that these actions start an inclusive discussion for all within the IE community to engage with and respond to these key concerns of data transparency and accessibility; therefore, they should be treated as being under an active community-led development program.
This proposal will be presented at the ISIE-ISSST 2017 on Wednesday, June, 28 10:45 AM in room G.