Dear colleagues,
I would like to invite you to attend an online workshop Carbon Clarity in the Petrochemical Sector on 15th September 2021 (3-6pm BST, 9-12am CDT).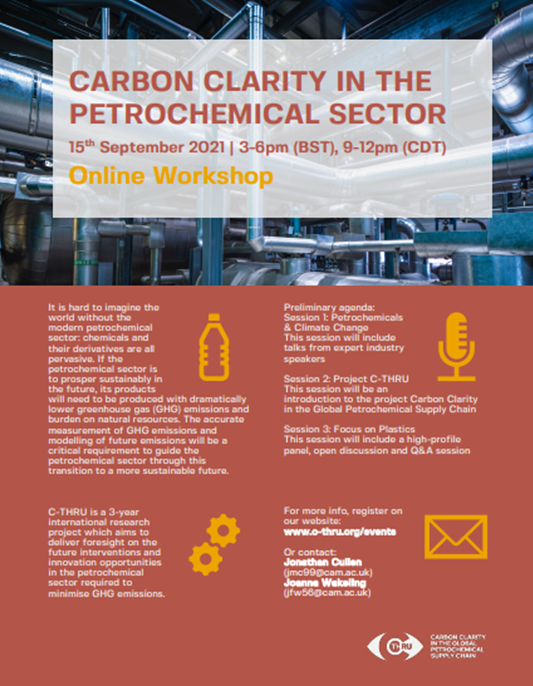 The workshop will consist of three sessions:
Petrochemicals & Climate Change – This session will include talks from expert speakers including Nilay Shah (Imperial College, London), Anna Scott (Project Canary), and David Allen (University of Texas at Austin)
C-THRU Project – This session will introduce the project Carbon Clarity in the Global Petrochemical Supply Chain with opportunity for discussion with each workstream lead from University of Cambridge, University of Bath, UT at Austin, UC Santa Barbara, HancockHamlin
Focus on Plastics – This session will begin with a talk from Roland Geyer (UC Santa Barbara and author of The Business of Less) followed by a high-profile panel and Q&A session
If the petrochemical sector is to prosper sustainably in the future, its products will need to be produced with dramatically lower greenhouse gas emissions and burden on natural resources. The accurate measurement of GHG emissions and modelling of future emissions will be a critical requirement to guide the petrochemical sector through this transition to a more sustainable future.
This workshop is the first event as part of the 3-year international research project C-THRU: Carbon Clarity in the Global Petrochemical Supply Chain led by University of Cambridge with partners in University of Bath, UC Santa Barbara, University of Texas at Austin, and HancockHamlin. C-THRU aims to deliver foresight on the future interventions and innovation opportunities in the petrochemical sector required to minimise greenhouse gas (GHG) emissions.
Please find attached a flyer for the event which includes contact details. To register your interest in the workshop, complete the form here: https://www.c-thru.org/events/ A full agenda will follow.
We hope you will be able to join us for the event and please feel free to invite your contacts.
If you have any queries, contact myself or Joanna Wakeling (Project Coordinator at jfw56@cam.ac.uk)
Kind regards
Jonathan