2nd Actionable Science for Urban Sustainability (AScUS 2021)
An Unconference on Urban Sustainability to Generate Actionable Solutions
June 1-4, online
https://ascus2021.metabolismofcities.org/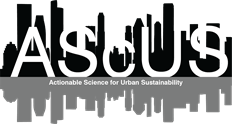 The 2nd Actionable Science for Urban Sustainability (AScUS) unconference continues the success of the previous edition in producing actionable and multidisciplinary knowledge to tackle urban sustainability challenges across the globe. It is conceived as a convergence platform for researchers and practitioners of all backgrounds, from political science and psychology to architecture and engineering, from basic research to policymakers, NGOs and entrepreneurs, focused on the development of actionable and scalable solutions and their transfer into action.
Unlike conventional conferences, AScUS 2021 is a participants-driven unconference with the mission to engage attendees with stimulating in-depth discussions and participatory sessions. The unconference is organized around a diverse selection of interdisciplinary discussion topics submitted by the participants, more similar to a workshop in format.
The unconference will spread over several weeks and culminate in a virtual event on June 1-4. Every registered participant is allowed to submit one contribution (e.g., recorded presentation) before the unconference (abstracts are optional but encouraged). All contributions will be uploaded by individual participants before the unconference and serve as a basis for discussion and knowledge exchange during the pre-unconference activities. The unconference will then culminate in a virtual event with interactive discussions oriented towards generating tangible outcomes in the form of a path-to-action contribution.
General Unconference Topics
Policy and Governance towards Urban Sustainability
Human Behavior and Psychology related to Urban Sustainability
Circular Economy at the Urban Scale
Sustainability and Resilience Metrics
United Nations Sustainable Development Goals
Infrastructure Modeling and Design
Urban Ecology
Social and Environmental Justice
Rebound Effects
Life Cycle Design in the Built Environment
Sustainable Cities: Open Source Data, Big Data, and Data Mining
Data-Driven Urban Design
Urban and Hinterland Relationships
Education and Outreach in Urban Sustainability Science
Interdisciplinary Partnerships towards Urban Sustainability
Interested participants are invited to submit:
Abstracts (300 words). Abstracts can have any format (e.g., text, audio, video,.. ). Information on how to submit your abstract will be posted in early February. Abstracts are optional but encouraged for fostering exchange during the open feedback period. Whether an abstract has been submitted or not, every registered participant will be allowed to submit one contribution (e.g., recorded presentation or poster) before the unconference. Acceptance letters are available upon request.
Discussion topic proposals (200–500 words). Everyone can submit a discussion topic proposal even if they have not submitted an abstract. Proposals should include a brief synopsis of the discussion topic, a list of activities that are planned, and a general idea of the type of the path-to-action contribution that is expected (e.g., white paper, podcast, website, performance). We encourage participants to actively suggest discussion topics, being the interdisciplinary exchange of ideas and knowledge one of the key objectives of AScUS.
Note that we require all participants to register by April 15 since the event officially starts with pre-unconference activities.
Important Dates
February 1: Unconference website opens for submissions (both for abstracts and for discussion session proposals)
March 1: Deadline for submitting abstracts and discussion session proposals
March 15:

Unconference website opens for registration
Submission of contributions opens (uploaded by participants)
Discussion sessions announced

April 15:

Deadline for registration
(preliminary) unconference program available
Start of pre-unconference activities (online)
June 1-4: AScUS 2021 Unconferenceaa

Registration fee (includes 75 EUR AScUS annual membership fee):
Regular: 150 EUR
Discounted*: 75 EUR
*Discounted: students and participants from emerging economies.
A limited number of scholarships are available to cover some of the registration costs for discounted participants. Please contact us on a needs basis: ascus@metabolismofcities.org
Location
Due to the continuing global COVID-19 pandemic, the unconference will be completely online. It will move around the globe according to the place of residence of the session organizers and participants. Sessions will therefore be scheduled on different time-zones.
Organizing Committee
The unconference is organized by a group of researchers from or based in Asia, the Americas, Europe, and Africa. While it is an independent event, the unconference is organized in close collaboration with Metabolism of Cities. Feel free to contact any of them for questions related to the unconference. The organizing committee is composed of (alphabetical order):
Shauhrat Chopra | City University of Hong Kong, Hong Kong | sschopra@cityu.edu.hk
Sybil Derrible | University of Illinois at Chicago, United States | derrible@uic.edu
Maureen Ferry | HouseStories, United States | maureen@housestories.co
Paul Hoekman | Metabolism of Cities, South Africa | p@ulhoekman.com
Matan Mayer | IE University, Spain | mmayer@faculty.ie.edu
Santiago Perez I University of Technology of Troyes, France I santiago.perez@utt.fr
Jens Peters | University of Alcalá, Spain | jens.peters@uah.es
Anne Ventura | University Gustave Eiffel, France | anne.ventura@univ-eiffel.fr